The most popular photography in Japan.
 Garden photography for Haneymoon or Vow renewal 
<Basic Plan>    Weekday Price  :  80,000 Yen 
*Tax 8% is not included.
Duration: from 4 hours to 5 hours
 Uchikake ( *1 Shiromuku +  *2 Irouchikake)
Haori Hakama .*3
Dressing  for a couple.
Professional Photographer , About 170 shots of photo data.
*The data will be sent to your accommodation in Tokyo during a few days.   If you move to another city in Japan next day, please ask before booking. If you go back to your country, you need to add international postal charge from Japan.
Japanese style wig or western style hair make for Bride. *4    Choose one from them.
Makeup for Bride * Please bring your cosmetics at the date. Because sometime your skin disagree with your skin.
Japanese hair make artist during photo shooting.
Transfer from our salon to the shrine.
English speaking assistant who does not speak fluent.
Prayer fee for a couple in the shrine.
+  + +
                             +
             
Optional
*Tax 8% is not included.
1)If you want to make the both hair styles of a Japanese wig and a western style.:15,000Yen
2)International postal rate from Japan to your country. It depends on your country, from 5,000 yen. Please Ask us.
3)Japanese style room photography in the same garden.  :10,000 yen.  We recommend for raining if it is available.
4)Degital Album 20 pages: 50,000 yen  *International postal charge is included.
5) Interpreter for 5hours : 20,000 yen. Chinese, French, Spanish…Please ask.
6)Saturday, Sunday, Holiday charge: 10,000 yen
Note: *1 :pure white kimono,  *2 gorgeously patterned kimono ,*3 Haori: a formal men's coat,  Hakama: a formal men's  divided skirt. *4 Japanese wig :Tsunokakushi or Wataboshi.  Choose one from them.
Top of the Japanese style wig are two styles a and b.
a)Tsunokakushi 

b)Wataboshi    

Although Tsunokakushi can be used for both Shiromuku (pure white kimono) and Irouchikake (gorgeously patterned kimono), Wataboshi, an oval-shaped hat several times larger than the head, is generally used for Shiromuku, and Tsunokakushi is used for Irouchikake these days.
Western style  hair making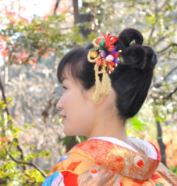 Our inbound web site :  http://japantours.jp
You should find amazing experience tours of Japan!